Pose Simulator users are strongly encouraged to register nicknames. There are too many benefits to skip it.
Click this button in game to register your nickname.

Claimed nickname is also used to log in to the web gallery.
These are the special features available to registered users.
1. Hidden Scene Upload
Use this feature to upload private scenes to the scene share.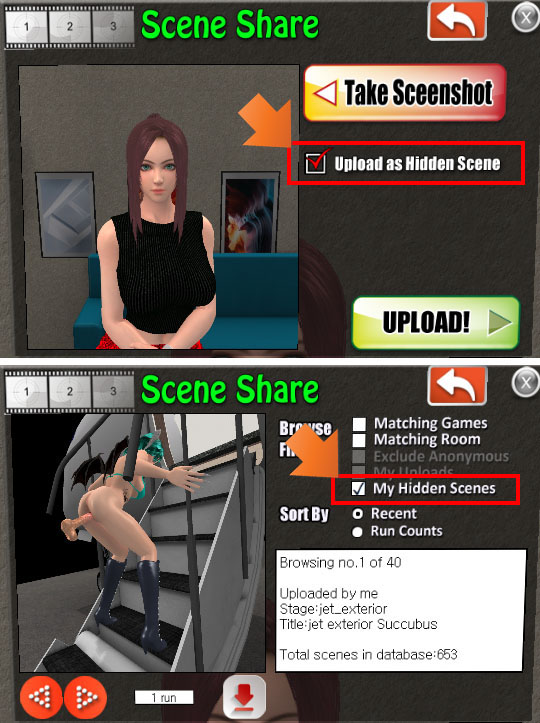 You can find your hidden scenes by checking "My Hidden Scenes".
Hidden-scene-uploading can serve as a backup of your private collection.
Private collection is saved as cookies. There's no guarantee that you will keep your cookies indefinitely. It's a good idea to back up your private collection as hidden scenes.
If you want to unhide any of your hidden scenes, you can login to the web gallery and unhide them.
Database space is dirt cheap these days. I won't mind how many hidden scenes you upload.😉
2. Updating Scenes
If you've registered your nickname and are playing your own scene, you'll see the message "update possible" right above the scene title.

If you update, your scene will be bumped up on the list.  Bump your scenes when you feel like it.
Old scenes are deleted after 24 hours. If you really need the old scenes, you can restore them in the web gallery.
3. Overwriting Scenes
It's similar to update, but overwriting is done without downloading it first. It needs some caution as the expression implies.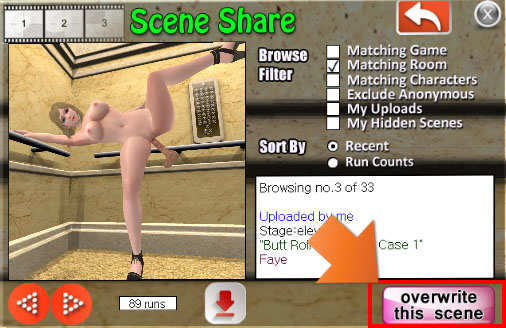 You'll see this overwrite button when you're browsing your own scenes.
Think of this. If you want to update a scene using a private collection, how would you do it?  It was impossible unless you upload it as a new scene and lose the run count.
If you overwrite a wrong scene, you can log in to the web gallery to recover the original scene.
4.Update without Bump
Use this option to update without bump.

5. Browse Hidden Scenes in the Web Gallery

If you login to the web gallery, you'll see that "Show Hidden Items" option.
6. Delete function on web gallery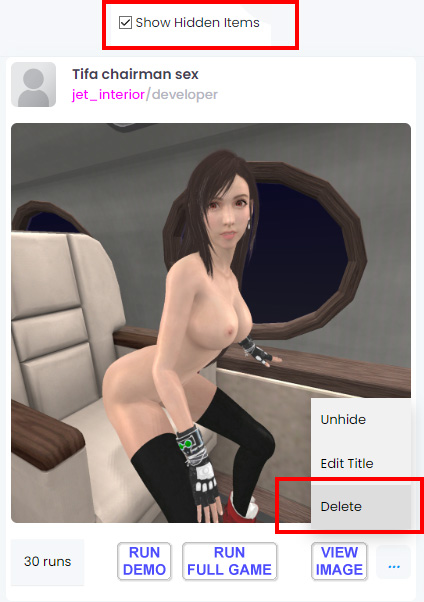 Only the hidden scenes are deleted. If you want to delete a public scene, first hide it, then delete.
Deleted scenes are kept away for a week, then permanently removed. If you really need to recover a deleted scene, talk to me personally.