6/9/2019 3DOF Controller Pointer Stable
I made pointing with 3DOF controllers more stable, it was rather erratic in the last versions. (all updated)
6/4/2019 About Performance
You might note that on the mobile browsers, the frame rate is rather bad. The reasons could be that
1) my own fault ???? I'm not very proficient at shaders actually. I can see there can be about 2x speed improvements if I do everything possible. But 2x is still not sufficient,
2) those 3D models are not made for mobiles
Still I'm continuing to do shader optimizations whenever I have some spare times.
6/4/2009 Renovation of VR Girls is complete. All updated.
I can use these upgrades as groundworks for more complicated sexual watch contents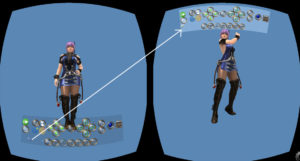 While in VR mode, you can move the menu board so it doesn't block the view. It works like HUD


There are four types of control schemes.
VR Controller – VR headset with 3DOF controller
Gamepad – Cardboard headset and user-bought gamepad
Cardboard Button – Just a button
None – For the last resort, when the Cardboard Button is broken that keeps firing, or not firing at all ????
6/3/2019
Finally! 3DOF VR controller support. In the future, I'll have to support 6DOF. Considering the complexity of current contents, I'm satisfied with 3DOF for now. Also gamepads are supported.
(not yet uploaded. under final testing)
6/2/2019 Minor Improvements on VR girls
Removed sky images – they were out of focus
Adjusted initial distance from the character – it was too close
VR girls selection page is updated like Non-VR – missing girls and list table added
(not yet uploaded. I have to do just one more thing ???? too many details to cover, it's unending)
5/28/2019 New Layout for the VR girls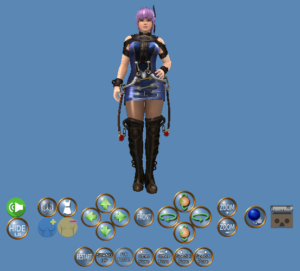 Last Layout was derived from non-VR mode, but I've realized it wasn't any good because I had to move my head too much to rotate or move the character, and the buttons blocked the character. This is the new layout from now on. (not yet uploaded)